14 Apr

Exercises: silhouette, memory and sketching

Another classic section from the old SOSFactory Blog, quick and fun drawing exercises. I assure you that spending only 1 hour a day you're going to notice a big improvement in quite a short time.
1.- Posing by Silhouette
Instructions: the task in this exercise is communicating different moods, attitudes or actions without any lines, just the silhouette. If you did a good work your mascot design pose will be understandable.
Here you can see some of my best silhouettes for a basketball player
What do we learn?: the pose is one of the most important aspects when it comes to show attitudes. A good silhouette makes easier and quicker to understand the character's pose. A pose can have different silhouettes depending on the position of the camera, you must learn to find the best angle.
2.- Draw from Memory
Instructions: Choose a drawing you like, a photograph or just look at something around you for 2 minute. Stop and relax for 1  minute and then draw it from memory. If you find it too easy, try with more complex objects. Repeat the exercise until you get good results.
Original draw courtesy of Loisa
What do we learn?: When we are not experts we tend to draw through visual references. With this exercise, we add resources to our mind. With practice, those resources will come to your mind automatically and you'll be able to solve many problems unconsciously, just by imagining.
3.- Sketching from Visual
Instructions: Similar to the previous exercise but this time we are going to look at the object or image as much as you need, you have only 45 seconds to reproduce it (you can look to the image while sketching).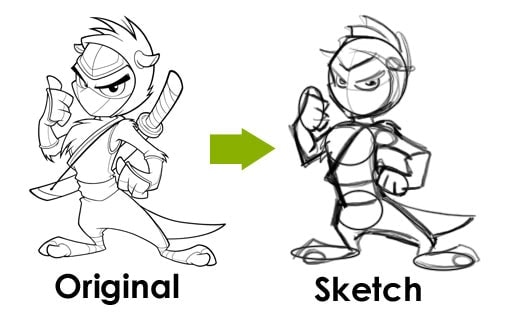 What do we learn?: Newbies tend to focus in the details and ignore the whole, which is a huge mistake. By limiting the time to just 45 seconds you force your brain to focus in the basic shapes, this is key to create well constructed poses.
Do you want feedback?
Just email me your images to [email protected], I will post it together with some notes to improve your drawing skills.
These are the homework of Diana
Posing by Silhouette: nice! the poses are clear but a bit static, you should improve your actions lines (we will talk about it soon).
Draw from Memory: really good! nothing to declare.
Sketching from Visual: you got the basic shapes, again improving your action lines will improve your posing a lot.