19 Sep

How to merge Photoshop files
How to merge Photoshop files
And other batch scripts for Photoshop
If you needed to merge Photoshop files into a single document then you probably found out that Photoshop doesn't have a native function for merging or to combine layered PSD files.
In this post you will get into the marvellous world of Photoshop automatisation 🙂
1.- COMBINE PHOTOSHOP FILES INTO ONE PSD (manually)
Bad news is you can't combine Photoshop layered documents with native functions, but you can move the layers/folders from one file to another one manually.
For a couple of documents it is not a big deal but if you need to merge a lot of them, please move to the next point.
There are 2 workarounds to merge Photoshop files manually:
The best way is using Duplicate feature as it will place the layers exactly in the same position (both canvases must have the same dimensions).
Direct dragging layers and/or folders manually from one PSD document to the next. It will place the layers in a random position of the canvas.
How to use Photoshop Duplicate Feature
The best way to merge or combine 2 Photoshop files is by using Duplicate feature because if the canvas in both documents have the same dimensions the elements will fall exactly in the same position. You can also move the layers to a new document that Photoshop will create, it will have the same dimensions as the original canvas.
Open file A and file B
In canvas A select the layers (or groups) that you want to move to file B
Go to top menu Layer> Duplicate Layers
Choose document B as destiny… and done!
2.- MERGE PHOTOSHOP LAYERED FILES INTO A ONE PSD (automatically)
You can do it with Load Files into Stack native script, unfortunately it will flatten all layers before.
But don't panic! we have created a custom Photoshop script that combine lots of Photoshop layered files (or JPG, PNG, GIF…) into a single psd. Additionally you can import every PSD into a folder or all layers together.
Watch this 1 minute video and see how easy and quick is doing it with a custom script.
File > Scripts > Browse… locate psd-merger.jsx file and click OK
3.- IMPORT NON-LAYERED IMAGES INTO A PHOTOSHOP STACK
Load files into Stack is a native Photoshop script that do the job smoothly and it is quite easy to use. It will stack alphabetically all your selected files, then you can save it as PSD.
The only downside is that it will flatten all multilayer documents. If your files are multilayer you will need our PSD Merger.
File > Scripts > Load Files into Stack
4.- BULK RENAME PHOTOSHOP LAYERS
For certain projects you may want to rename a bunch of layers in a quick and easy way but Photoshop doesn't have any native function that do it. We have created a Photoshop script that rename dozens of Photoshop layers with just a click.
This script uses folder's names as prefixes:
You create this structure.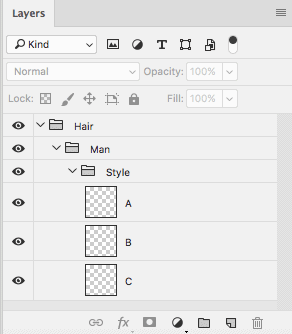 Run the script and get all layers renamed.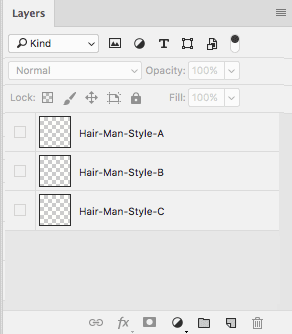 File > Scripts > Browse… locate bulk-rename.jsx file and click OK
5.- EXPORT PHOTOSHOP LAYERS TO PNG WITHOUT PREFIX
For certain projects you could need to export Photoshop layers to PNG files, for example, if you want to build a web based avatar creator. You have several options but none of the native functions are perfect.
Option 1: Layers to files
Native script layers to files can export layers to PNG, JPG, GIF, SVG… but Photoshop adds annoying _0000_ prefixes to your images.
File > Export > Layers to files
Option 2: Quick export as PNG and Export as
In layers palette you can right-click 1 or more layers and select Export as  or Quick export as PNG. You get a PNG file with the name of the layer but Photoshop crop the canvas to your layer's dimension. If you set specific dimensions photoshop will place the element just in the center of the canvas, losing its original placement.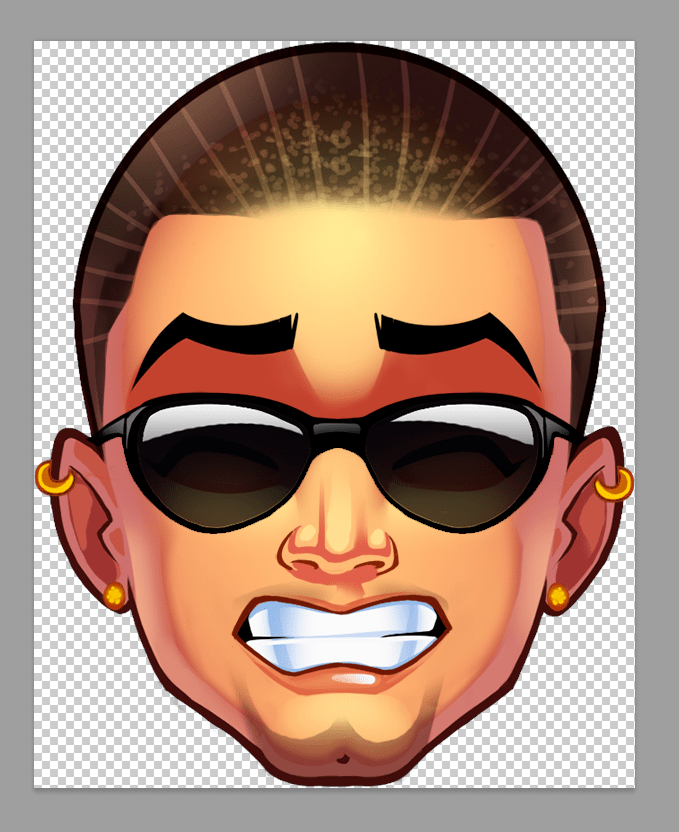 This is the default PNG you get in both cases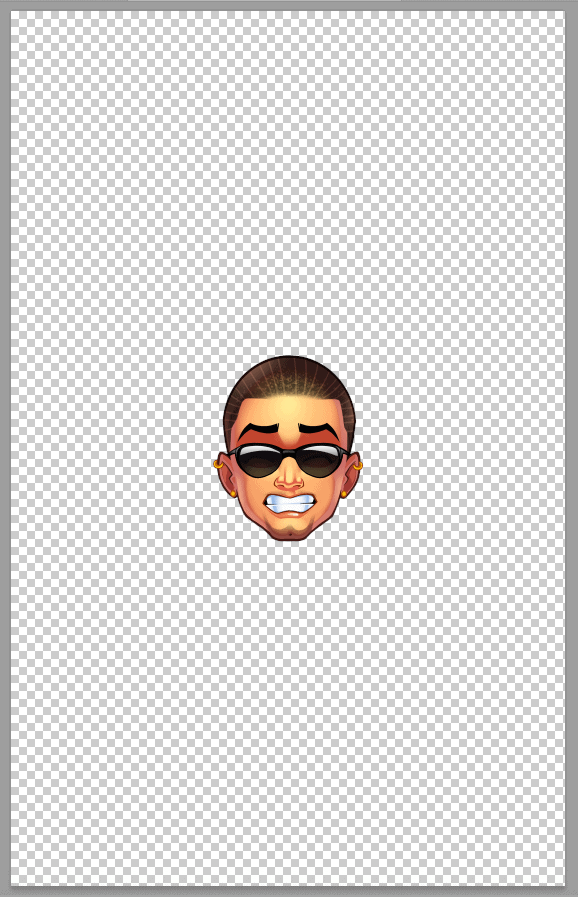 And this if you set canvas dimensions on Export As
Option 3: Export layers to PNG, keep canvas size, position and layers name (without prefix).
So… we created a script to export layers to PNG files preserving the original position and size into the canvas, and layers name. No annoying prefixes, no trimmed images.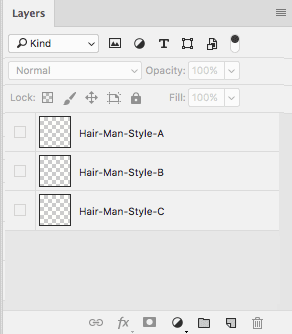 Run the script and get this.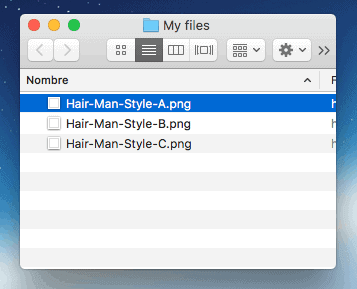 … while preserving the original placement.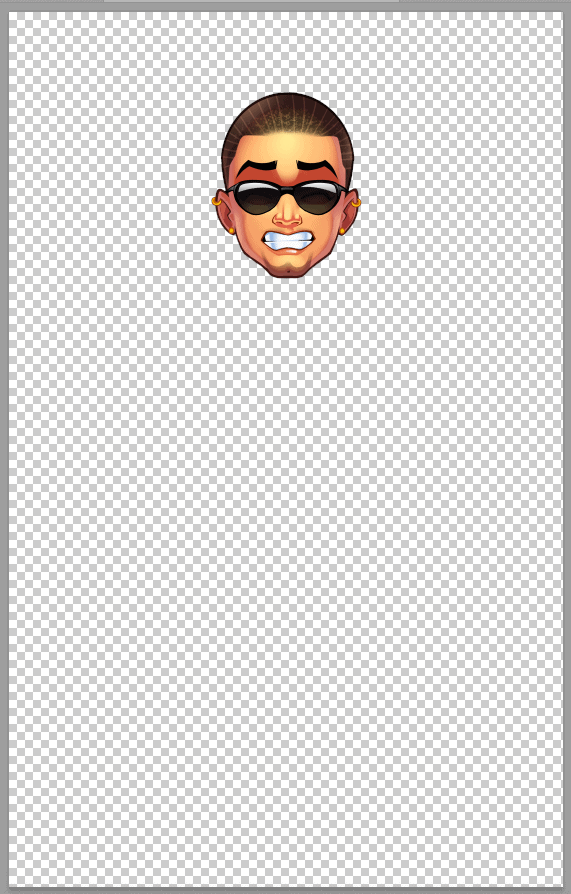 File > Scripts > Browse… locate layers-to-png.jsx file and click OK
6.- ARRAY LAYERS IN PHOTOSHOP AUTOMATICALLY
With this custom Photoshop script you can create a matrix of dozen of images, array the layers (or groups) by defining the amount of files/rows. It is perfect for catalogue display, to create patterns or product variations.
File > Scripts > Browse… locate and click automatic-array.jsx file
A small interface will appear, you can define the amount of files or rows and click "OK" that is it.