10 Nov

Design for dignity (a real 99designs review)
A real 99 Designs Review
Speculative Work & Alternatives
UPDATE 16 March: 99designs tried to censor this post due to an inexistent copyright infringement. This post is a product review and fit within the Fair Use doctrine. The contest object of this review is now private.
If you are a designer and care about your profession, please, share this post.
My clients demand +900 revisions per logotype. I work blindly because my employer doesn't collect a proper briefing. My competitors work for peanuts. Competition is unfair and most of the times I don't even get paid… It is not my case but it's not fiction neither. It's the situation of graphic designers who work at crowdsourcing platforms like 99 designs.
Sorry for revealing my biased position but please, read this post and make your own.
Why is 99designs promoting speculative work?
99designs is a crowdsourcing platform that promotes speculative work. Users post design contests while a bunch of newbie or graphic designers from poor countries compete with their colleagues until degrading limits with the promise of a non guaranteed payment. So most of their designers (sometimes all) are not paid. 
Free workforce generating income… what a bargain!!
Don't miss this parody, it is gold!
STATS of a random 99designs contest
At 99designs landing pages you will find lots of really nice hand picked designs. But let's choose a random case and let the numbers speak. The first project you can currently find in 99designs.com is a very representative case:
Budget: 1,189US$ (1,000US$ + 189US$ 99Designs commission)
Number of entries: 837
Number of designers: 164
Duration: 2 weeks
Status: caution, payment not guaranteed.
Briefing:

Logotype design for Conway Wealth Group, financial analyst.
It must be elegant, crisp, good looking.
Preferably blue color.
It must contain a symbol that means wealth.
Aimed to company managers and executives within Fortune 500.
Are 99designs contests worth?
Based on the previews stats, as a client I would wonder myself:
How much time do I need to review and comment 837 logos from 164 designers?
How many of those 837 proposals are really worth?
With 1200US$ could I hire a top logo designer?
How could I be sure my logo is unique and original?
Could I trademark a logo where 164 designers are collaborative creators and only 1 was paid?
I'm not a graphic design expert, how can I judge what is a good logo?
And as a graphic designer I would ask myself:
How could I understand the client needs with such a short briefing?
How could I put all my efforts and time in a proposal that has not a guaranteed payment?
How can I be sure my designs are not used if the client cancel the contest?
It is fair that other designers take advantage of my feedback proposals to submit theirs?
Am I transferring the copyright of my non rewarded proposals to 99designs?
Are logo designs at 99designs good quality?
These are the 3 entries which have obtained a better feedback from 837, for a logotype that will cost around 1,200US$.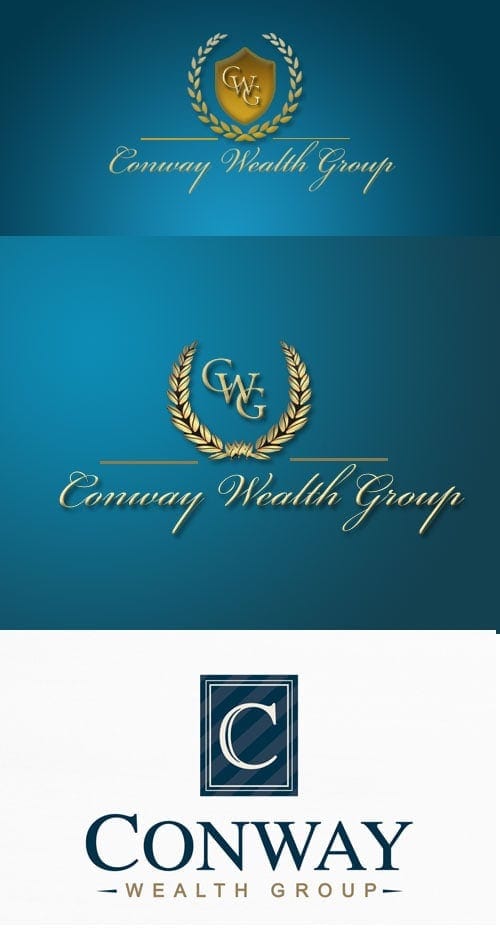 What do you think about the quality of those 99designs logos?

Update: winner 99designs logo was replaced by this one few months later.
Is 99designs profitable for a graphic designers? Is it worth for clients?
On one hand we have 164 designers with 837 entries with a non guaranteed prize an incomplete briefing. A client that doesn't respond to the proposals and constant complaining of plagiarism from the contestants. If we'd share the prize, each designer would receive about 6US$. At least 163 designers (maybe all of them) won't get a dime for his work.
On the other hand, we have a client who has a more than reasonable budget of around 1,200US$ and a deadline of two weeks. And if everything goes as expected he will obtain a pretty mediocre logotype.
And in the middle we find 99designs.com who will get near 200US$. They claim to be generating 715,000US$ per month, if they obtained 15% benefits, they got around 107,000US$ (+ 39US$ opening fee per contest).
Alternatives to 99designs for graphic designers?
Ok buddy, you are a new to the business and need experience in order to build a good portfolio. You may think 99designs is a good option because you have a lot of free time and seems a quick shortcut for success but…
Do you know any other job where people work for free to get experience?
We all have been newbies, we have been lost and didn't have any idea of where to start. Be creative and think it this way, if you are not able to market your own services… how the hell are you going to provide any value to your clients!?
I offer you a few more productive alternatives:
Work for a non-governmental organisation.
Look for scholarship trainee.
Create stock designs, tutorials, stickers, post as guest blogger…
Blog to promote your services.
Create fictional projects.
Offer your services to local business for a low price.
There are only 3 rules:
Your payment must be guaranteed, even if it is low.
You must learn to deal with real clients.
You must create a good portfolio.
Are you really getting good habits at 99designs?
The only positive thing from working at 99designs is that you will experience the hell in the graphic design industry, if you survive you will become stronger. But I think this is an unnecessary evil, discouraging and not useful… even counterproductive, because of the bad habits you would acquire.
You must learn how to communicate with clients… at 99designs you won't.
You must develop your own design process… at 99designs you won't.
You must learn to understand client's feedback… at 99designs your competitors will do most of the job.
It is smart working at 99designs?
Ok, at 99designs there are lots of clients, some of them with acceptable budgets. But your salary is not guaranteed and there are thousands of direct competitors, some of them with no work ethics.
It's like selling low cost fruit in a low cost macro-market (with some pickpockets around)…
I think it is more intelligent to set up your own store far from competitors and focus on the quality of your product. If your product is good, in a short time clients will knock at your door. Then you'll be really free and you will set your own rules.
Otherwise, you'll keep selling low cost design for lifetime, you will depend on intermediaries and you will feed your competitors.
Do you need quick and easy money?
Wow! 1.000US$ for a logotype you can make in 10 minutes!!!
Sorry my friend, you've chosen the wrong job. In the design industry there's nothing quick or easy. If you really want to succeed you have to set long term goals. You must improve your services over and over, promote your work forever and reinvent yourself every once in a while.
But ok, let's suppose you want quick and easy money.
How much can you make at 99designs?
There are thousands of designers and hundreds of entries in each contest. The chances of winning are quite low even if your entry is technically the best one. Simple statistics… the client can also withdraw the contest.
Let's pick the last 3 contest winners on 99designs.com and let's check his conversion percentage: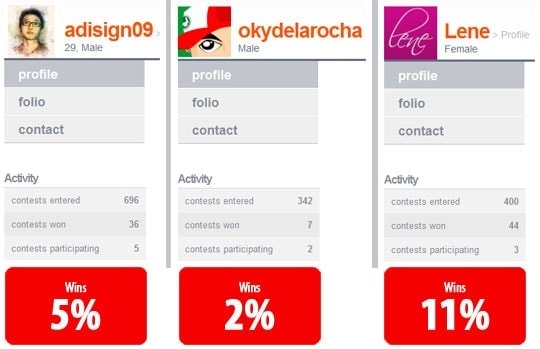 Adisign09, Okydelarocha and Lene wining rate is around 2-11%

Update: 99designs deleted the amount of contest entered. Now you only can see the amount of won contests… smart move!
Is 99designs ethical and legit business?
I have to admit that I don't check designers code of ethics very often. My decisions are based on common sense but it is always good to have a frame of reference and I agree 100% with its contents.
Let's see what the AGDA code of Ethic says about contests:
AGDA discourages members from predatory pricing practices such as free pitching, loss leading and other pricing below break-even. Members should be aware that such practices will damage the economic viability of their business.
AGDA is unequivocally opposed to the unfair manipulation of designers with the aim of garnering unpaid work (commonly known as 'free pitching'). Client practices which do damage to a member's business are those that award projects or commissions on the basis of the commissioner's acceptance of unpaid design submissions (eg. unpaid competitive tendering or speculative work).
A Member shall not take part in any design competition if the terms of the competition are not approved by AGDA. AGDA bases its assessments on the International Competition Guidelines published by ICOGRADA (International Council of Graphic Design Associations). A Member or organiser of a competition can contact AGDA to review a competition's terms and provide recommendations and/or approval.
This said, crowdsourcing websites like 99designs break all ethical principles of our profession once and again. They sell lots and lots of low cost design. And in the meantime, they are filling their pockets at the expense of your future expectations.
Now it is your choice…