04 Mar

How to create cartoon monkey
How to Draw a Vector Cartoon Monkey
Everybody loves monkeys… buuut… this one won't be so adorable. I will create a bit edgy monkey character in a straight jacket and and a bloody knife… lots of blood! So, time to write a tutorial about how to draw a vector monkey character in Photoshop and Illustrator!
Drawing on paper and scanning to Photoshop
Sketching with a Ipad or drawing pad is fun but it's expensive, if you can't afford it, you may start drawing the traditional way. You can draw with pencil and paper, then scan it and trace it with vector tools.
Traditional drawing on the left, photoshop retouches on the right.
I start sketching my monkey with a soft red pencil, when I'm satisfied with the results I redraw it with a normal pencil. As you may notice, it is a very loose sketch.
Unfortunately my line quality isn't as good as some comic artists, no worries, we can scan it and make some improvements with Photoshop!
Researching Character's Personality
Once I draw something potentially good I scan it into Photoshop and play around, I change the monkey's facial expressions and pose until I get something I like.
Take a look at how the character evolves during the mascot creation process. It's normal not starting with a very clear idea of what you are going to do, just have fun and spend some time for research.
Evolution of the personality of our character 😛
Digital Inking in Photoshop
No matter if you work on bitmaps or vectors it's critical working on high resolution (around 8.000 x 8.000 pixels) as you will work more more comfortably. If you work on bitmaps at the end of the process you can reescale the lineart down and all small imperfections will be gone, this will make the automatic vectorisation more accurate.
I have a mastterclass that will help you to improve your digital inking in Photoshop.
Clean sketch on the left,  final inking on the right
Once we have a final sketch for the mascot character, I clean it in Photoshop with my Wacom tablet and assigning different line weights, then I proceed with the final inking.
For the final inking we can use Photoshop or Illustrator vector tools,  alternatively you can hand draw with a digital tablet and learn how to vectorise in Illustrator.
Final inking, it's very important to modulate the lines correctly.
Notice we have 3 types of lines: contours are the thicker lines, internal lines are thinner and transition lines starting as contour and getting inner.
Our digital inking must be as light and clean as possible.
– Don't create shadows.
– Don't use extremely thick lines without any variation in thickness.
– Don't overload the inking with internal lines: just mark volume in a subtle way so they work as guide for the color.
– Don't use completely straight lines.
– Don't make really small details: your volumes must be as big as possible, otherwise you wont have sufficient space for the color.
Vectorisation in Illustrator
If you created your lineart with Photoshop vector tools you can open the PSD file directly in Illustrator and it will be completely editable.
If you opted for the Photoshop Brush Tool, we can open the file in Illustrator and vectorise our bitmap lineart by using Image Trace, it's quite straight forward. Here is a video where I explain how to do it.
After the vectorisation you probably will need to clean your layers, the goal is having a black shape with lot of white shapes on top. In this post you can learn how to vectorisation in Illustrator.
Plain colors
Assigning Base Colors
Now we only have to fill each white area with the color we want, I use medium tones, not too dark or too light so, later on, we have room for the lights and shadows.
Adding Basic Gradients
We will use gradients of at least two different colors, but not extremely contrasting because we'll add lights and shades later on. For now don't pay too much attention to the gradient direction, we're just choosing the color tones, later on we'll orientate them to give coherence to the illumination.
Gradient colors
We cut areas into smaller volumes
Now we fine tune the gradient colors so we get a coherent illumination. There's a basic thumb rule:  next to a dark color there's always a light color.
Adding shadows
We'll create a layer, in the transparency palette we change the blend mode to Multiply.
For the shadows we simply pick a flat or gradient color similar the one in the background and create the shadows. As it's in multiply mode, it will interact with the background resulting a darker color.
Animation so you appreciate the shadows.
IMPORTANT : if you use shadows in Normal mode you'll need a lot of adjustments to not to cover the black lines. Multiply mode makes the layer transparent on top of a black color so there is no adjustment needed.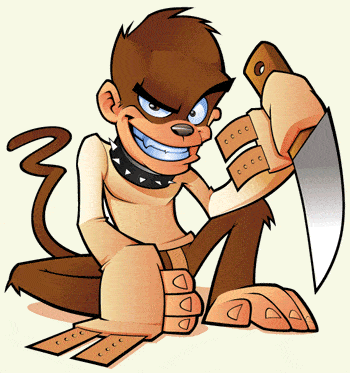 Adding  highlights
In this case it's not essential to use different layer modes, although you can always use the Screen blend mode to get lighter tones.
First off I make a soft illumination and later on I add some strong light areas in order to reinforce the contours.
Final Retouches
Now we only need to add some blood stains in a Multiply layer on top.
Illustration is a complex issue and I probably didn't cover all details in full, if you want to dig even more I have put the source file for sale. Feel free to purchase it for your own research.
GET SOURCE FILE
Become a Professional Mascot Designer!
Learn my best Photoshop tips and tricks about digital inking and digital coloring for mascot design. With technique and some practice you can also make a living from the characters you imagine.