08 Nov

How to create a Vector Mascot in Illustrator
How to create a vector mascot in Illustrator
Hi guys! I recorded the whole process in the making of Cheeky Monkey vector mascot design in Illustrator. There will be several videos and I will update this post frequently. Subscribing to my SOSFactory Youtube Channel or Facebook page is a good idea to stay up to date.
Learn how I create vector mascot designs in Adobe Illustrator. Work in progress images and videos included.

Nice… huh?
Sadly the video is about 15 hours long, so I need to split it in different parts and accelerate the time to compress it within YouTube´s restrictions. I will write some annotations along the videos where I share some tips to improve your inking in Photoshop and your coloring in Illustrator but I'm sure lot of questions will pop up on your mind, feel free to ask.
Feel free to visit this post to learn more about my mascot design process or visit this character design tutorial.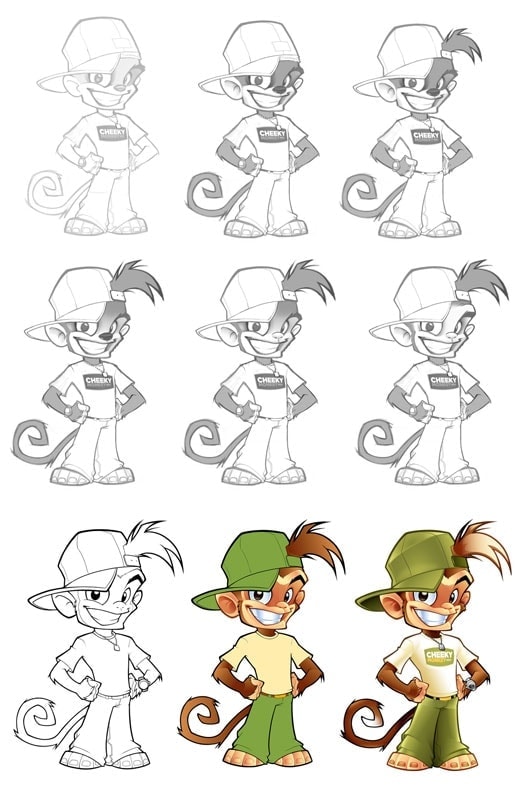 Here you can see the mascot design evolution from the concept
to the final mascot design in Illustrator.
And some close-ups:

Video 1: some tips to improve the quality of your lineart in Photoshop
I receive lot of questions about my digital inking process: how do I get so sharp and crisp lines?. What brush settings do I use?. How big is my canvas?… In this video I reply all these questions and some others, if your lineart looks pixelated or blurry take care of these advices and you will notice a change.
EDIT: Youtube delete all my annotations… sorry, if you really want to learn how to ink digitally I suggest you get my masterclass.
Video 2: how to vectorize your lineart in Illustrator
Vectorizing your lineart in Illustrator with Live Trace is so easy that you don't really need to deal with vectors until the final conversion. I find much more comfortable and natural working with Photoshop and a Wacom tablet, also the inking process is much faster.
At the end of this step I have lot of white shapes over a black silhouette.
Video 3: Assigning flat colors in Illustrator
This video could be a bit boring for expert users, I just assign flat colors and organize the shapes into groups, it's very important when working on complex illustrations.
Video 4: Applying gradient colors in Illustrator (Part I)
I forgot to record the first minutes of this video, I just applied very basic gradients and cut big areas into smaller ones, then I start the tricky part: adding shadows and lights.
Video 5: Applying gradient colors in Illustrator (Part II)
So here is the last video, after 15 hours of work our vectorial mascot design is completely done. Crisp and clean!
I hope you enjoyed the process, I'm already working in the next Masterclass, this time about vector illustration in Illustrator, in the meantime if you have any question or suggestion just let me know.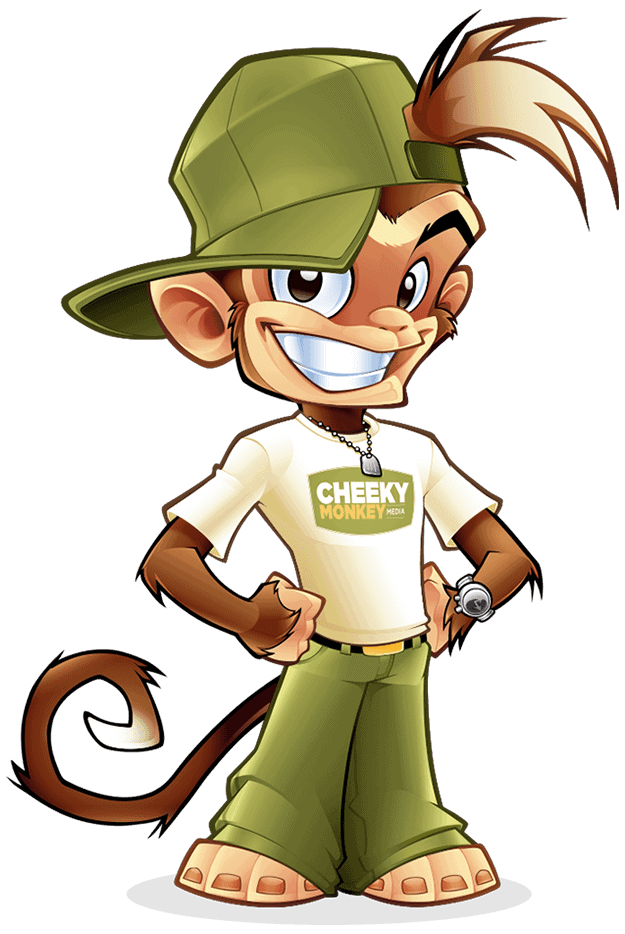 How to become a Professional Mascot Designer?
I created some masterclasses with all my Photoshop tips and tricks about digital inking and digital coloring for mascot design. With my technique and some practice you can also make a living from the characters you imagine.