22 Nov

5 reasons why you should not enter 99designs

A few days ago, I published a post about crowdsourcing webs. Clients come to these webs with a project, and designers compete for a -non guaranteed- prize. I received many comments for and against these freelancing platforms. So I thought it would be interesting to examine these pro-crowdsourcing positions in depth.

First of all, I must admit that the heading of this post is a misunderstanding, since it wants to mean just the opposite of what it says. I'm totally against "free pitching". It's not for fear (luckily I'm not affected by this market). I write this just because, as a designer myself, with a relative stable clientele, I feel responsible of the education of novel designers (that's the reason for this blog), who come along looking forward to having success but too focused on short term. Just like I was 8 years ago.

If you join crowdsourcing sites, please read this post, and if you have some time, think it over. It's not my intention to tell you off, I just want to offer some arguments that you maybe haven't considered before. If you have and you are still positive that this is a good thing for your career, please comment your point of view for us.
1.- Are you a novel designer, so you need some experience and make your portfolio?
I can answer with another question: do you know any other job where people work for free to get some experience?
I can find it acceptable that if you have no experience, your salary should be lower than an experienced worker's. But… working for free? If you have to do that, choose another job.
You can find many alternatives:
You can work for an non-governmental organization.
You can look for a job as a scholarship trainee.
You can sell stock designs, sell tutorials or work like guest blogger.
You can create your own blog and convert the traffic through advertising, while you promote your services.
You can work for friends and relatives.
You can work in personal projects or fictional clients.
Websites such as Upwork, where clients choose a designer according to their budget and their portfolio. It's not a panacea, but at least there are some guarantees.
You can offer your services in blogs, art communities and forums at a reasonable price.
There are only 3 rules:
Your salary (even if it's not much) must be guaranteed.
Your prior objective is to learn, both in commercial and technical levels.
Making a good portfolio which contains quality work is the key of your future.
But… let's suppose that the payment would be guaranteed in this contests. As we already commented in my previous post about 99designs, there are still many obstacles:
Unidirectional communication: the client speaks and the designer executes.
Communication is also poor: there's not a good brief and feedback is limited and poor.
Revisions are cumulative, that means the project evolves basing on other designers entries, which can make you "inspire" in other people's work.
Are you really learning good habits? The only positive thing I can extract from this is that you will have known the hell of labour market, and you'll become stronger… If you survive. But I think this is an unnecessary evil, discouraging and not useful… even counterproductive, because of the bad habits you would acquire.
2.- Need to work?
Ok, in these sites there are plenty of clients, some of them with acceptable budgets. But your salary is not guaranteed, there are thousands of direct competitors (some of them without any moral principles) and the system doesn't enable good quality results.
It's like selling low quality fruit in a low quality macro-fruit-shop… I think it would be more intelligent to set up your own store far from that other one, and focus on the quality of your products. I mean, don't you think it would be more intelligent to create a good quality portfolio and promote it yourself? If you're a good professional and you offer good products, in a short time clients will knock on your door. Then you'll be independent and you will set the rules of the game.
Otherwise, you'll keep selling low quality fruit for your lifetime, you will depend on intermediaries and you will have the competence in your own home.
3.- Want quick and easy money?
Wow! 1.000US$ for a logotype I can make in 10 minutes!!!
Sorry my friend, you've chosen the wrong profession. In the design industry there's nothing quick or easy. If you really want to have success you have to think in long term. You must improve your product and your service, you must promote your work, you must be a professional and then your work will be profitable, you'll be able to choose who do you want to work for, and you will really enjoy your job.
Ok, let's suppose you want quick and easy money. Is it really quick an easy? There are hundreds of designers and hundreds (even thousands) of entries. The chances of winning, even if your entry is the best one, are quite bad. Firstly, because of simple statistics, and secondly, because the client have the possibility, with a legitimate intention or not, of retiring his money and then there would be no winner of the contest.
Let's pick the last 3 contest winners on 99designs.com and let's check his conversion percentage: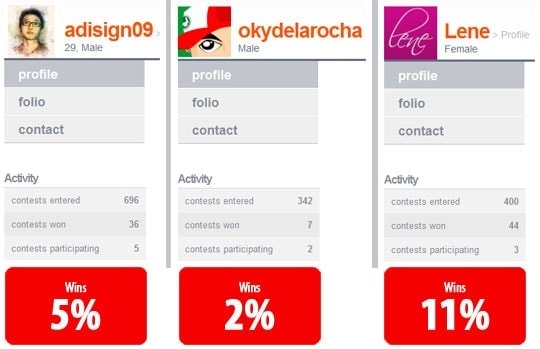 Adisign09, Okydelarocha and Lene conversion rate. At best case the was paid 1 out of 10 projects, at worst case 1 out 50.
4.- Who is the one who loses out?
Crowdsourcing puts quantity before quality, they don't promote clients' education in design methodology. They think designers don't deserve the guarantee of being paid. They offer low quality proposals, even when the clients have an acceptable budget… Designers without any methodology, not involved in the making of the brief, unfair competition, "free pitching" on principle, "quick" and "easy" money… The get-rich-quick culture.
The client loses, the designer loses… Who takes advantage then? As always, the intermediary, the organizer who earns his commission. Considering that 99designs generated last month 715.000US$, and they obtained a 15% benefits (forgetting the extra 39US$ for each registration), their income of the last month reaches the not inconsiderable amount of 107.000US$.
Do you really think this is beneficial to your career? Do you think it's beneficial to the client? Think about it, do you really want to promote these values?
5.- Is it unethical, immoral or something?
I have to admit that I don't turn to designers code of ethics very often. I'm not a fundamentalist in any aspects of my life. My decisions are based on common sense. But it is always good to have a frame of reference and I agree 100% with its contents.
Let's see what the AGDA code of Ethic says about contests:
AGDA discourages members from predatory pricing practices such as free pitching, loss leading and other pricing below break-even. Members should be aware that such practices will damage the economic viability of their business.
AGDA is unequivocally opposed to the unfair manipulation of designers with the aim of garnering unpaid work (commonly known as 'free pitching'). Client practices which do damage to a member's business are those that award projects or commissions on the basis of the commissioner's acceptance of unpaid design submissions (eg. unpaid competitive tendering or speculative work).
A Member shall not take part in any design competition if the terms of the competition are not approved by AGDA. AGDA bases its assessments on the International Competition Guidelines published by ICOGRADA (International Council of Graphic Design Associations). A Member or organiser of a competition can contact AGDA to review a competition's terms and provide recommendations and/or approval.
This said, crowdsourcing websites break all ethical principles of our profession once and again. They buy designers' ethics with promises of "easy" money. They sell lots and lots of low quality "fruit" to the clients. And in the meantime, they are filling their pockets at the expense of your dreams.